Hanwell Big local has awarded sums of between £50 – £500 to local residents and groups in the local area for activities and projects that will get people involved, increase community participation and help raise awareness of HBL project.
This year, HBL welcomes applications of £50 up to £500 from Local Residents Association, individuals or local community groups to take advantage of this funding.
Have a barbecue for your block

Tools to help to maintain your block's communal garden

Run an activity at a stall at a school fete

Help to buy a team strip for a football or netball team

Summer activity for families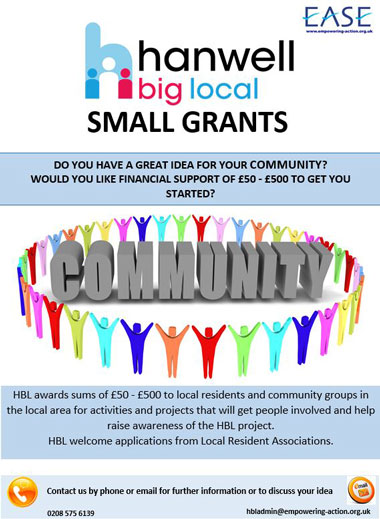 At least 60% of those participating/benefiting must be residents of the Hanwell Big Local area  – see HBL map area
We can't consider applications otherwise.
You can get the application form by emailing hbladmin@empowering-action.org.uk or by calling 0208 575 6139.
In 2019 HBL Small Grants have been awarded to: