The National Lottery Community Fund
The National Lottery Community Fund in England is investing £200 million in 150 urban and rural communities.
Each Big Local area is receiving at least £1m Lottery funding over 10 years, which residents themselves will be in charge of spending on ways to improve their community. Each area is also be given support, training, and networking opportunities to help them develop their plans and empower them to find solutions that work for their communities.
Managed by Local Trust, an independent organisation, and supported by a range of partner organisations, Big Local is targeting pockets of the country that have been overlooked for funding and resources in the past and may face issues including the decline of local industry, high levels of unemployment, or a pressing need for new support services or activities.
Through The National Lottery Community Fund and Local Trust are taking action to put this right and help build communities capable not only of spending a £1m Lottery investment but securing more in the future.
Local Trust is a national charitable company limited by guarantee. They were established in 2011 by a consortium of partner organisations led by the Community Development Foundation.
Local Trust is a unique organisation supporting resident and community led solutions to create lasting change throughout England. They use a community development approach to resident and community led regeneration of areas. They believe that those who make up the community know best what's needed and are the most likely to come up with the solutions to make a lasting positive difference to the places where they live, work and socialise.
Their work: They aim to inspire and motivate people to get involved and lead change in their communities.
They do this through Big Local – a radically different investment of £220m from the National Lottery Community Fund – which supports people in 150 places to make a difference to the things that matter most to them in their community.
Their vision of the future is that each community they work with is resilient and confident and their area is a good place to live.
Their mission is to enable residents to make their communities and their areas even better places in which to live.
Local Trust Values
At Local Trust they:
encourage residents to have greater control over the things that matter most to them; supported by those they trust

work with others to make a positive, lasting difference

are open, honest, friendly and supportive

do their best to keep things simple and clear

value equality and diversity

continually seek and learn from experience to develop better ways in which people locally can improve the quality of their lives.
Local Trust Strategy
Local Trust Strategy is to:
give residents greater control, skills and confidence to make a difference to the things that matter most to them in their communities

use rigorous research, evaluation and story-telling to learn and develop our approach to achieve greater impact; make resources go further and enable joined up solutions to complex issues

position Local Trust and those they support to influence the approach of others working in communities including: funders, government, charities and businesses with Local Trust seen as a leading innovator in transforming communities

widespread change so that residents and those supporting them in communities have greater involvement and control over the things that matter most to them.
Big Local Trust was established by Local Trust and the National Lottery Community Fund with a National Lottery grant of £196,873,499. The grant is an endowment, which has to be spent by December 2026. It funds Big Local, supporting 150 communities in England to make their areas even better places to live.
Big Local is an exciting opportunity for residents in 150 areas around England to use at least £1m each to make a massive and lasting positive difference to their communities. Big Local brings together all the local talent, ambitions, skills and energy from individuals, groups and organisations who want to make their area an even better place to live.
Big Local is funded by the National Lottery Community Fund and managed by Local Trust. Nationally they work with a range of partners to deliver Big Local, building on the skills and experiences of others to provide expert advice and support for residents.
The aim of Big Local is to ensure that people are connected, people have choice, and people are supported to achieve lasting change in the place where they live. Underpinning this is their commitment to support residents over the long term to learn skills and gain the confidence to make decisions in their communities to bring about transformational change. They believe that change should be resident and community led so enabling change through ownership.
The outcomes for Big Local are:
Communities will be better able to identify local needs and take action in response to them.
People will have increased skills and confidence, so that they continue to identify and respond to needs in the future.
The community will make a difference to the needs it prioritises.
People will feel that their area is an even better place to live.
Local Trust has an ongoing commitment to learning and evaluation and has commissioned Our Bigger Story as one way to learn about how community led change happens. Our Bigger Story is a multimedia evaluation of Big Local which aims to record positive change in Big Local areas and understand how those changes come about and how they can be sustained.
The evaluation aims to capture that change, and the learning involved, for individuals, families, Big Local partnerships and the wider community. It will do so by supporting local residents to develop a range of multi-media resources which follow Big Local journeys for up to ten years and by producing a series of films, written and other materials which illustrate progress towards Big Local outcomes. The evaluation 'products' will also be useful to a wider audience of practitioners and community activists, policy makers and funders.
Led by the Third Sector Research Centre (TSRC) at the University of Birmingham, the team will be working with 15 Big Local areas across England to record change as it happens – change in individuals and in Big Local communities as a whole.
They are supporting Big Local areas to record their experiences, through community research, blogs, photos, digital stories, films and other media. Together they are creating an on-line record of the activities that are making Big Local areas an even better place to live and making films about how Big Local is making a difference. Ultimately, Our Bigger Story will be a unique digital record of change in communities over a ten year period.
Hanwell Big Local & Our Big Story
HBL has been selected as one of the 15 participating areas in Our Bigger Story, the multi-media evaluation of Big Local. From 150, 15 Local areas were selected to participation in the evaluation. 'Our Bigger Story' website is a part of the multi media evaluation of 15 Big Local areas in England. This site also offers the opportunity to highlight and look at what the other 15 Big Local areas are doing within their communities.
The website is an opportunity to follow what is changing in Hanwell as a result of Big Local over a ten year period. The aim of the website is to share the learning from everything that is happening in Hanwell with other Big Local areas and highlight what works in communities with a wider audience of practitioners and policy makers.
High Lane Resident Association
High Lane Residents Association (HLRA) was set up to aid the residents who reside on the estate that cover Hanway and Hobbayne Roads in Hanwell. The HLRA is made up of four residents who act on behalf of the Estate in the capacity of Chair, Treasurer, Secretary and Vice Chair.
High Lane Resident Association & Hanwell Big Local
Three members of the Resident Association Rose Ravencroft & Mary Griffiths and Pauline Wilson are on the HBL Partnership. In 2016, HBL expanded the HBL area to cover High Lane Estate and surrounding roads. This meant that the residents have been able to access services and opportunities.
High Lane Resident Association has been working with Hanwell Big Local over the last year, where they have received funding for different events. The committee is very grateful for the funding provided by Hanwell Big Local and look forward to working with the organisation in the future.
High Lane Residents look forward to working together with HBL to build a stronger community and make a big difference.
HLRA Community Involvement
The HLRA work closely with the council liaison team and are committed to running the association to meet the needs of a very diverse population.  The association endeavours to be inclusive and have set up some initiatives that run on a regular schedule to meet the needs of youth, young families /mothers and adults. These endeavours include:
coffee mornings (a variety of information and sometimes guests are invited to talk to residents about local issues)

funding permitting there are also a number of community days planned for example Family Summer Fun Day, Christmas Lunch for pensioners and Children's Spring Party.

in conjunction with the Council, the committee fought for funding to erect a multi-games arena (MUGA) to cater for recreation for all youth and children who live on the estate and the council have provided extra play areas across the estate in conjunction with resident's needs, utilising free space on the estate.
As well as fundraising and providing an opportunity for inclusive celebration the committee also work hard on ensuring a safe and conducive environment in which to live, including of late provision of much needed improved lighting across the estate. Committee members have pushed for Rehousing of impaired residents who felt isolated and vulnerable on the first floor of a block and managed to get them rehoused in a ground floor property. Fences have also been erected for vulnerable elderly residents, where the previous fencing may have been damaged or not able to be personally funded.
In partnership with the housing team, there are regular 'Estate walks' to point out needed repairs or neglected areas, such as scaffolding being erected and no works being noticeably carried out.
High Lane Regeneration 
The council has been engaged with residents of High Lane regarding the possibility of an estate regeneration since 2013.  At the current time, should the works go ahead the regeneration is likely to commence towards the end of 2022 with a view to complete phase 3 (final phase) in around 6 to 7 years later.
Gurnell Resident Association
The Gurnell estate is built around a large green grassed area with a newly refurbished under 7s playground next to a 5 a side football/basketball area for the older children/teenagers. Many of our older residents have lived on the estate since it was built back in the 1960s.
Gurnell estate would class them as a small estate consisting of 3 blocks and 3 blocks of maisonettes alongside housing association new builds around the estate. Gurnell Resident Benna Brophy continues to serve on the HBL Partnership.
For the last 3 years, some residents of Gurnell Estate put on a community Fun Days to help promote HBL and bring together the residents of the estate. The events had food and drink, face painting, football tournament, DJ, information stalls and some residents had stalls to sell items to the community. The Gurnell Fun Days were funded by HBL Small Grants.
Hanwell Big Local looks forward to continue working with Gurnell Residents and hope to welcome new residents wanting to get involved.
 Copley Close Resident Association & Copley Close Steering Group
Copley Residents' Association (CRA)
The Copley Residents' Association (CRA) was formed in June 2018 to represent the interests of all Copley residents. The Copley RA aims to ensure that the views of Copley residents are properly considered by the Council in any decisions they make in relation to the Copley Estate.
The main priority of the Copley RA is to bring the local community together by promoting effective resident engagement on Copley Estate. This was evidenced by the successful Estate Fun Day hosted by the RA on Saturday 8 September 2018, which was attended by more than 200 residents, children and young people.
Copley Residents' Steering Group (RSG)
Copley Estate is undergoing regeneration and refurbishment.The Copley Residents' Steering Group (RSG), a sub-group of the RA was set up to ensures that the views and interests of all Copley residents are considered by the Council when making decisions in relation to the regeneration of the Estate. The RSG meets with the Council on a regular basis and ensures that residents are kept updated on the regeneration process.
Bluebells Mobile Creche
Bluebells has been working in the local community since 2008, they often work alongside local children centres in the HBL area, such as EASE and Hathaway, to provide a range of childcare facilities like stay and plays, half term / summer clubs, and crèches to support adult learning courses, and much more! Bluebells is your local childcare provider that suits all your needs, and sends every child home with a smile.
They provide variety of childcare setting to suit all your needs.
To book Bluebells for your next event, contact them for a quote:
Bluebells Mobile Crèche
Tel: 07545 065991 / 07904 120244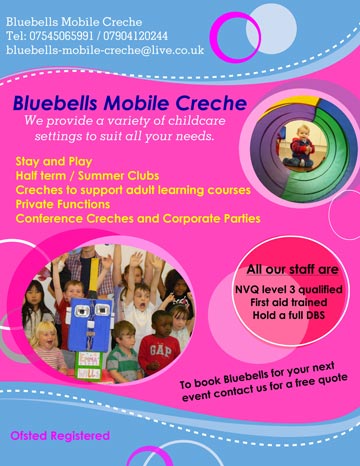 London Pulse Basketball Club
London Pulse is a registered charity and relies on the support of their volunteers and the community in order to function. London Pulse Basketball Club started life at Mayfield Primary School six years ago in 2011 and now has 150 players. They are a thriving club, running five league teams, that welcomes young people between the ages of 7 to 18 years old.
Every Saturday at Hanwell Community Centre for young people, 7-18 years old. For more info www.londonpulse.org or call Damian 07932 933644
Also, women-only group on Tuesdays 9.30-10.30am. Train and learn to play in a welcoming and friendly group. Contact anne@londonpulse.org or just turn up on the day!
Basketball, Baseball and American Football Summer Camp 2015 & 2016
In August 2015 & 2016, 70 local children aged 8-12 years old enjoyed five days of American Sports at Hanwell Community Centre.
London Pulse Basketball is pleased to be able to run this holiday camp for last two year. Their volunteers organised all the activities but behind the scenes, they were grateful for the support of Hanwell Big Local (HBL), EASE and Hanwell Community Centre (HCC). It was a true community event with many people pitching-in to make it happen. All the participants thoroughly enjoyed themselves as they threw, hit or bounced the ball, many proudly wearing their red 2016 camp t-shirt!
Ealing Community and Voluntary Service
Ealing Community and Voluntary Service (Ealing CVS) is a registered local charity and has been supporting the local voluntary and community sector for over 30 years.
Ealing CVS has supported and contributed to the development of Hanwell Big Local from its infancy and then, as HBL became an independent body led by local people, they were elected onto the Partnership in 2014. With their many years of experience supporting the voluntary sector in Ealing, the role of Ealing CVS on the HBL Partnership is to support its initiatives and offer practical support where applicable.
They offer a wide range of practical support services to VCS groups: